Commercial Insurance
Still Compiling Insurance Quotes Manually? There is a Better Option.
---
It's that time again! Every year at this time, commercial insurance carrier plan designs, benefit summaries and quotes arrive at your brokerage in wildly varying forms. They may look like a brochure, a research report, or a set of spreadsheets in PDF form. Yet, they all contain the same vital information you need for Employee Benefits: deductibles, out-of-pocket maximums, coinsurance, diagnostic imaging, prescription drugs, radiology visits and so on. Or for Property and Casualty: Buildings, Locations, Limits, Deductibles and Premiums.

Producers, account executives and renewal analysts painstakingly review these documents to extract all this vital information – plan-by-plan, quote-by-quote. Furthermore, they do this spread compilation under time pressure, because they know other brokers are vying for the same business. It is time-consuming and error-prone. What if there was a way to extract this critical information from quotes and assemble the spreads you need, in the format you desire, automatically and accurately – every time? With Docugami, that's possible today.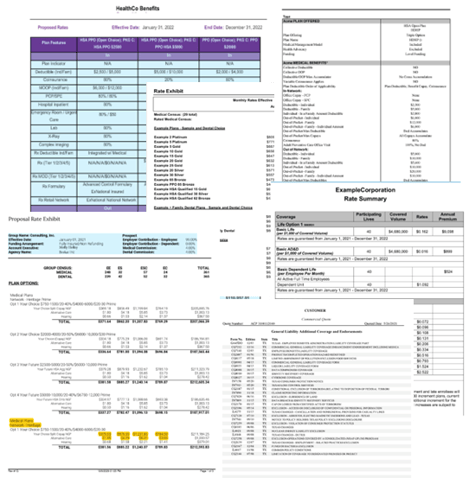 Insurance carrier plans details come in wildly varying formats. Extracting all this vital information,
plan-by-plan, quote-by-quote, is time-consuming, expensive, and error prone.
Docugami deconstructs these disparate carrier plans and quotes through 'document engineering,' leveraging state-of-the-art artificial intelligence. The full spectrum of lines of coverage are supported: Medical, Dental, Vision, Life, Accidental Death & Disability, Worksite Voluntary, General Liability, Auto, Workers' Compensation, Umbrella, Property, and more.
In minutes, Docugami prepares a precise output of a given PDF or Word plan or quote. That output is readily consumable by downstream systems of your choosing: trusty and powerful Excel, your Agency Management System (such as BenefitPoint or Applied Epic), or databases (including SQL Server, Snowflake, or Oracle) for deeper analysis. We generate outputs in XML or Tabular (CSV/Excel) formats.
Unlike other cloud offerings such as PerfectQuote, we don't force you to a standard output layout that is costly to customize and evolve. And we don't lock-in your data – it is exported directly to the downstream cloud storage systems of your choosing (SharePoint, OneDrive, Box, Dropbox, and more.)
The process efficiencies generated by this approach will put you light years ahead of the competition, especially for customized mid-market and large market proposal generation. We make sure your producers, renewal analysts and account executives have the spreads they need, to make the sale they want.
Download More Information
Get an in-depth look at how Document Engineering is transforming the commercial insurance industry.
Learn how Docugami's breakthrough AI delivers value on Day One, unlocking critical business information from your documents.