Commercial Insurance
AI Document Data Extraction for Commercial Insurance Carrier Plans
---
For Any Carrier, Any Market, Any Size Group
-In minutes-
Commercial Insurance brokerage firms differentiate by offering tailored solutions to fit the needs of their clients. To create these client-focused insurance options, they must process complex policy information from documents sent by insurance carriers in various formats (like PDF, Word or scanned files). Most have created their own proprietary marketing documents to explain all the various plan details and options.
It requires expensive manual labor to read them all and turn them into data to engage with customers across the range of commercial insurance types. How much do you spend on this process each year? - Thousands? - Hundreds of Thousands?
No more. No need to waste your agency's time manually re-creating all the plan details between proprietary forms from multiple carriers. With Docugami's AI engine, you can extract the data you need from complex commercial insurance carrier documents and automatically synchronize new carrier plan information into data formats that your brokers can use to sell.
Even better, it is a breeze to set up. There is no need for a special software development project, or data specialists to start. Just upload carrier documents as they arrive in your inbox. Could you win more prospects or renewal customers this year if your team could beat the competition to a pitch?
A Look At Employee Health Benefit Plans
As an insurance brokerage firm that specializes in this area, you must process dozens of carrier rate plan and benefit summary documents in a short period of time to ensure they are ready for the health plans' open enrollment window.
This is a costly and time-consuming manual task, but with Docugami it can be completed quickly and easily. Docugami will organize and extract critical information for you, while letting you review and control the process. You'll be ready to sell policies in just a few steps:
Give Docugami a few carrier documents to analyze the structure and content. You can start with 5 or 6 plans, but the more, the merrier. Docugami continues to learn from new plan documents uploaded, as it sees more variations in documents containing comparable information.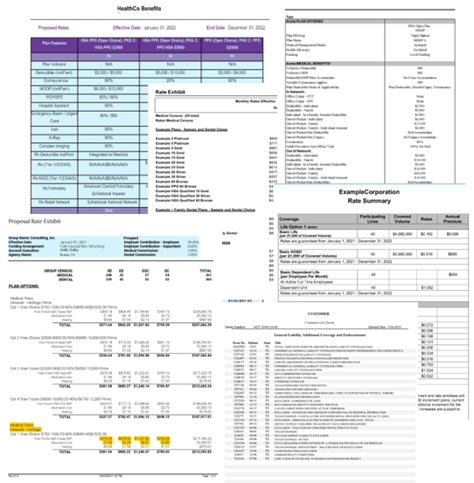 Carrier plans come with wild variations in formats. Difficult for anyone to figure out!
Just upload these documents. Docugami will get to work processing them. A staff member can then simply go through a couple of the carrier documents to click on the information or the tables to extract. Docugami can identify, extract and properly label information from text, from cells in a table, or a full table of information. The user (not a data scientist) can then just review and confirm the results in a spreadsheet.
Docugami automatically generates a report with the organized data you need to drive next steps in creating personalized client-focused insurance options. This data can be in spreadsheet form, for further manipulation, or can be exported to other platforms or databases you may now manually support.
Docugami will help you to achieve the fastest way to convert carrier rate plan and benefit summary documents into accurate and actionable quote data. Your insurance brokerage firm can save time and money while providing a better service to clients.
Download the White Paper
Get an in-depth look at how Document Engineering is transforming the commercial insurance industry.
Beyond Employee Benefits
In addition to Employee Benefits (Medical, Dental, Vision, Life and AD&D, Voluntary, Employee Assistance Program), the Docugami AI engine can process a wide area of lines of coverage like Property and Casualty (General Liability, Auto, Umbrella and Property), Stop / Loss coverage, and many other more operational documents such as employment agreements, leases or vendor agreements.
From dozens of carriers and trusts nationwide, Docugami automatically extracts information from text, mixed with complex lined and unlined tables, as shown above. Docugami automatically detects and collects what your agency chooses, from multiple plan rate and benefit summary tables.


Once the raw data is properly extracted you can synchronize the information automatically to a central file, connect or export that information to a Database or Agency Management System, or hand it over to Robotic Process Automation, Low-code, No-code products of your choosing. They can then send or integrate the information as needed.
Docugami handles the Carrier information you work with, locally, regionally or nationally in a flexible way. It is not constrained by pre-defined templates or field lists. It is often used in tandem with other legacy systems, feeding them the information or metadata that they require, rather than forcing all the staff to do that with every document manually.
Contact us to learn more about how Docugami's artificial intelligence can speed up commercial insurance document processing and give your brokerage firm an edge over the competition.
Learn how Docugami's breakthrough AI delivers value on Day One, unlocking critical business information from your documents.