Commercial Real Estate
Guide to AI-Powered Commercial Real Estate Contract Analytics
---
Commercial Real Estate Is A Document Intensive Business
The industry runs on listing agreements, lease agreements, lease abstracts, marketing documents, purchase and sale agreements, spreadsheet updates, and more. They require a phenomenal amount of time and attention.
But real estate professionals understand that it's also a deal-intensive business. This applies across brokerages, investors, property managers, landlords, tenants, lease and tax auditors, and service providers.
It is also a data-driven business: lease terms, renewal dates, tenant improvement clauses, gross rent vs. net rent, price trends for different types of properties, and sub-units, subleasing, Common Area Maintenance (CAM) charges, Right of First Offer Terms, and more; The data involved includes variations in legal issues and obligations as well as data fields, such as dollar values, names, dates, sq ft, and addresses.
Most of this data originates in the form of text documents: scanned documents, pdf files, legal contracts. This information comes in differently structured, highly variable formats. No two leases across jurisdictions, or across landlords even look the same, and they all have highly variable, but essential terms embedded in them.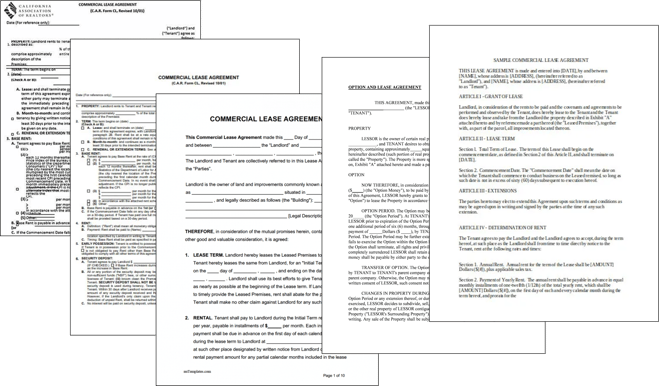 Extracting Information From These Unstructured Documents Is Inefficient And Expensive
There are several not-so-great ways to get information from these documents:
Have a broker, agent, or administrative worker read through the fine print of each one and copy/paste into another system.
Hire or have an attorney review them, for legal compliance or consistency reasons, and then have in-house staff do the rest.
Batch these documents regularly and outsource the work, and provide quality control in some fashion, by again, reading the documents.
Hire an IT or data consulting firm to attempt to program a system to pull out the relevant information, repeatedly.
Hire outside lease auditing firms to do this work.
Buy software 'PropTech' that has a pre-set number of terms that it can extract, and then, provide another layer of review for any flexibility or quality control needed.

In every case, the business and the deal flow must be put on pause while the critical document information needed now, - for action, analysis, compliance, or deals - is being extracted.
It's expensive and wasted time that could be spent on valuable activity, with customers, with the data. The necessary use of documents to negotiate and commit agreements locks up the data in pdf files, and unlocking it manually hurts the bottom line.
Download the White Paper
Get an in-depth look at how Document Engineering is transforming the commercial real estate industry.
The Solution May Not Be Official 'PropTech', but 'DocTech,' As In
Document Technology
We are document geeks. What we do we call Document Engineering. We automate document data analysis.
What that means for you is that we make it super easy to get the information you need at any time - take leases, for instance. Just upload your leases. Docugami processes them. There is no learning curve or IT specialist setup or programming process.
Then you can select any information needed, and Docugami will organize that information for you across ALL leases. You point at 5-10% of the data, and Docugami gets it all for you, even if the documents are structured differently. It shows you all the data, all the variances - everything you asked for.
We also put that information in files, in a spreadsheet, or a database for you to use in powerful ways. The information can be shared with your prospecting tools, your CRM system, your agency management system, or custom spreadsheets or databases. The information can be put to use, automatically.
So, if you are conducting diligence, planning with the team for next week's renewals, or supporting a landlord's concerns about maintenance costs, just point and click on a couple of documents to get what you need in a Report.
Further, the same information you've collected is available to you when you create a NEW lease. You can choose from your best practices for that type of document because it's right there on screen at your fingertips. You don't have to go looking for language in a digital stack of leases from a year or two ago.
This is just the tip of Commercial Real Estate document use cases that are possible.
Automated Data from Documents = Deal Flow
Using Docugami saves time, frustration, errors, and money. It may help save your business during times of economic uncertainty, as agreements are monitored and changed due to external circumstances. Spending less time and attention on documents means more time and attention on the data and on customers.
Hard to believe? The best way to see for yourself is to schedule a short demo with us. We look forward to it.
Learn how Docugami's breakthrough AI delivers value on Day One, unlocking critical business information from your documents.