Commercial Insurance
A Generative AI Solution for Commercial Insurance
---
Commercial Insurance is one of the most document-intensive industries anywhere. Billions of documents are exchanged between Clients, Carriers, Agencies, and Technology Vendors annually. These insurance documents are incredibly diverse in terms of their content, structure, and presentation. Most importantly, they contain vital information that is highly valuable when it can be consistently extracted and aggregated.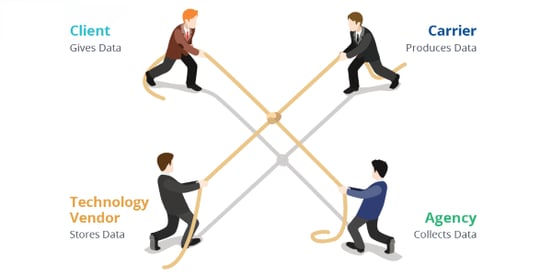 Image source: American Agents Alliance
It's not enough to simply store the mountains of insurance documents – companies need powerful tools to help them understand the content of their documents and leverage that vital information in every aspect of their operations.
Docugami's AI-powered document engineering unlocks the critical data trapped in carrier quotes, contracts, agency proposals, Loss Runs, Statements of Values, Declaration Pages, ACORD forms, and virtually every other document used by commercial insurance companies.
Once unlocked, these data streams are used in a variety of novel ways by our customers. Imagine a streamlined quote-to-sell process where solicited carrier quote data is automatically extracted for review, with a subset of these quotes being included in a Comparison of Benefits document, generated by Docugami for you.
Imagine having the ability to consistently classify and process property documents to extract terms for Total Insured Value, Total Incurred Loss, Construction Types, Buildings, Locations, Coverage Limits, and more.
Imagine being able to build sophisticated Program Offerings in a matter of days based on Premiums Collectible, Location and Risk Profile.
All of this and more is made possible by Docugami Document Engineering.
Generative AI Software That Insurance Companies Can Trust
Docugami is already providing Document Engineering solutions to 4 of the top 20 U.S. property and casualty insurance companies, and 2 of the top 20 U.S. health insurance companies. Property and Casualty and Employee Benefit lines of coverage across different company-size segments can benefit. Each customer is finding more opportunities to develop their own strategic data, to develop their competitive edge.
Docugami complements brokerage agency management systems by surfacing the information inside millions of files. It offers more than just limited ACORD form field extraction or generic contract lifecycle management, more than expensive and complex intelligent document processing. Docugami can generate the information critical to driving your business.
Download the AI for Commercial Insurance Slide Deck
Discover how Docugami's generative AI technology saves time for commercial insurance firms.
Docugami is Generative AI that is specifically trained on business documents. Unlike other Generative AI models that are in the headlines today, Docugami understands business documents through a proprietary Business Document Foundation Model, and then applies that business document acumen to the unique documents of your company.
Best of all, Docugami is designed for use by front-line business users and managers, and works with your favorite business tools. Docugami provides immediate value on Day One, without the need for expensive additional IT projects or training.
Process For Applying AI To Commercial Insurance Documents
While every customer has unique needs, here's an example of how Docugami provides end-to-end solutions for commercial insurance.
First, Docugami can sort through these millions of files, providing a first level of indexing to organize and make sense of the documents at the most fundamental level. Customers can decide what is important to process and what is not.


Then, selected documents go through a finer-grained grouping and labeling process based on understanding the content of each document and its similarity to other documents. We call these groupings 'docsets.'


Next, Docugami's powerful AI-based Document Engineering automatically creates a complete digital representation of each individual document in its entirety, identifying every chunk of content within each document, including how each chunk of information relates to every other chunk.


Docugami generates a knowledge graph of your essential documents in their entirety, creating a hierarchical data representation for the information in each document. Creating this complete hierarchical representation of every document enables frontline staff to do a myriad of things -- automatically generating new documents based on your company's standard rules and approaches, developing quotes, creating reports and flagging risks and opportunities, automatically extracting key pieces of information and routing them to the appropriate departments, automatically feeding business processes, developing information for reinsurers, and more.
How Your Commercial Insurance Firm Can Benefit From Generative AI
By unlocking the data in your documents, Docugami makes it easy for you to use that data to drive your business in a variety of ways:
Generating in-depth reports and analyses based on your instructions, to assess the risk within your portfolio.
Generating key information to export into your line-of-business systems.
Generating new documents that are compliant with your company's tone, style, and best practices.
For an Employee Benefits brokerage, Docugami dramatically reduces the manual effort required to extract information from carrier quotes. Docugami takes considerable time, cost, effort and human error out of the process. Your team gets more precise quote data, more quickly, assembled into a concise format that makes it easy to present options to your customers.
For Property and Casualty companies looking to understand the elements of their portfolio risk, Docugami can automatically digest mountains of Loss Runs, SOVs and ACORD forms, building the detailed risk information you need for identifying key accounts to include in programs for Carriers/Reinsurers to price.
Professional Liability coverage also requires essential data from complex documents, as with other lines of coverage. Docugami makes it easy and efficient to understand this critical data, often buried in PDF files, so that you have the information you need to evaluate underwriting risk for a given prospect.
Insurance is vital to every part of our economy, and documents of all kinds are the sources of truth that provide the foundation for insurance. Docugami's business-focused AI-powered Document Engineering helps insurance companies in every sector generate greater insight, efficiency, and competitiveness.
See what Docugami can do for your company.