Document Engineering
Document Engineering is here today – but don't just take our word for it!
---
Documents have been around for hundreds, even thousands of years. So why are documents still so hard?
Right now, every business and every organization are underperforming. They are missing insights that could drive their success. Their business systems are fundamentally incomplete. They are slower and less efficient than they should be.
The reason? They are missing a huge part of their vital information, because it is locked away in unstructured or semi-structured documents – inaccessible to enterprise databases, analytics tools, and line of business systems.
People have dreamed of unlocking the vital data trapped in documents for years. But the dream has always been out of reach.
Key industry analysts agree that change in this exact direction is long overdue. "Despite more than 30 years of mainstream use of office authoring tools, not much has changed," writes Cheryl McKinnon, Principal Analyst at Forrester Research, in a December 2020 report, The Future of Documents.
"Recipients need the data that's locked up in the pages in machine-readable, structured forms," McKinnon writes. "Documents are ready for their own digital disruption."
At Docugami, we agree. The future of documents has arrived, and we are making it a reality today.
---
Docugami's approach is new and groundbreaking in multiple ways.
Docugami combines a wide range of AI, XML, and other technologies to automatically identify individual 'chunks' of content of all sizes within a wide range of documents, as well as how each chunk of content relates to every other chunk.
Docugami automatically creates a hierarchical data representation of each document in its entirety, making it easy and efficient to assemble new documents, generate insights and reports, and drive line-of-business systems.
Docugami is designed for frontline workers and managers, does not require massive investments in machine learning, staff training, IT development, or armies of consultants, and provides value on Day One.
---
But you don't have to take our word for it – hear what Appian, Automation Anywhere, Box, Coda, Dropbox, Grammarly, Microsoft, NASA, the National Science Foundation, Relational AI, UiPath, and our other early partners and customers have to say:
"Today trillions of documents are saved in content management systems such as Box, containing critical business insights 'hidden' in plain sight. Docugami turns document content such as Master Service Agreements and Scopes of Work into data that machines can understand, and brings it to analytics platforms, traditional enterprise databases, and Customer Relationship Management systems, truly unlocking the value from your stored content."
Dan O'Leary, @danieloleary,

"Clinical trial studies have generated enormous volumes of documents that many clinical systems and processes have not been able to access for key information such as objectives and endpoints, schedule of activities and inclusion/exclusion criteria. Docugami automatically identifies key information in clinical trial documents, making critical information available to create documents for new protocol development and bringing key configuration information for e-clinical systems like EDC and RTSM, dramatically reducing the time it takes to bring new drugs and medical devices to market."
Stan Wysocki, Former Venture Lead, Cognizant
"Docugami's AI-based document engineering will bring contextually relevant acquisition content to Appian's solutions, allowing the government workforce to complete common acquisition documents inside familiar business applications like Microsoft Word. This results in increased workforce productivity and data consistency."
Ben Allen, Director of Federal Acquisition Solutions, Appian
"Docugami deconstructs documents into components to enable new docs creation in Coda in more flexible and powerful ways than ever. With Docugami's document engineering approach, users can create a broad array of content, ranging from MSAs (master service agreements) to project management specs. Docugami's compatibility with all-in-one documents like Coda means that teams can maintain data consistency across their business applications for even greater collaboration."
Nick Valluri, Head of Partnerships, Coda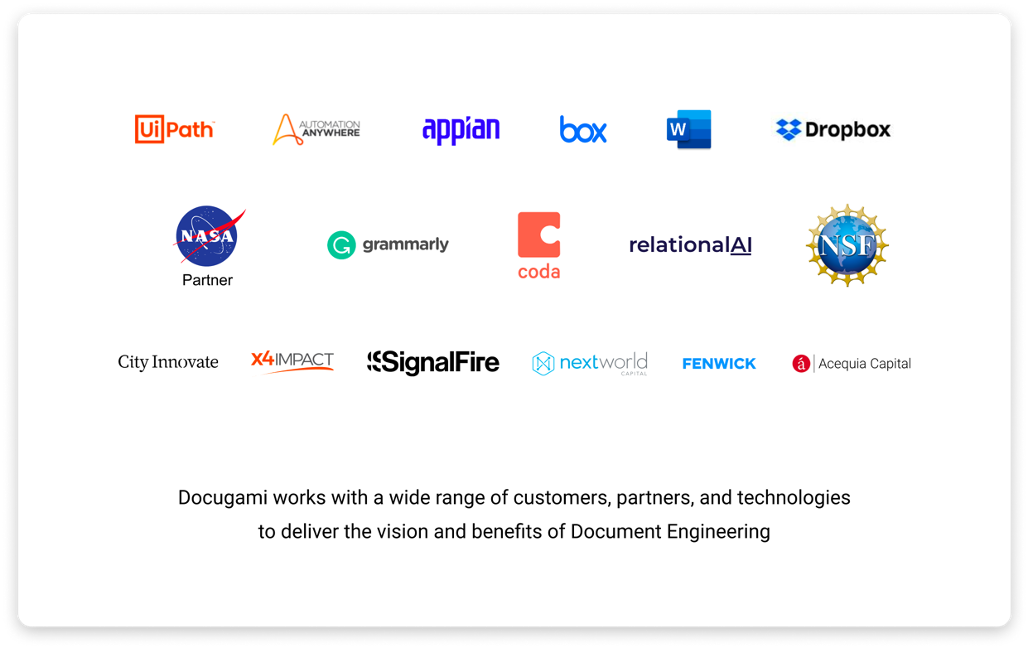 Docugami's revolutionary approach will benefit every sector, not just business but also government and science. Docugami is already working with the U.S. National Science Foundation and National Aeronautics and Space Administration (NASA) on research projects to demonstrate the benefits of Document Engineering in scientific activities and continue to develop the technology. Docugami's NASA work is exploring ways in which Document Engineering can parse unstructured and/or semi-structured information in the space agency's knowledge bases, project repositories, asset repositories, and other sources to identify useful information, reusable assets, or potential collaborators for a current project.
"The problem of dark data locked in documents has been right in front of us for decades, and now Docugami is harnessing the tools to finally solve it," said Una-May O'Reilly, Ph.D., Principal Research Scientist at the Computer Science and Artificial Intelligence Laboratory at the Massachusetts Institute of Technology, who worked on the NASA grant and also serves as a scientific advisor to Docugami. "Docugami's initial work with NASA and the National Science Foundation underscores how valuable Document Engineering will be and how the technology can scale across any sector – any kind of business, and highly technical scientific fields as well."
Experts see enormous potential for Document Engineering to improve the efficiency, performance, and transparency of government, as well.
"Despite years of investing in better storage and analytics, many organizations, especially in government, still struggle to make use of their data. Too often, agencies have an abundance of "dark data" — data that is undiscovered, underutilized, or otherwise untapped," says Daniel Castro, vice president of the Information Technology and Innovation Foundation (ITIF) and director of the Center for Data Innovation.
Writing in GovTech, Castro cites Docugami as an example of how technology could transform government. "[A]rtificial intelligence is creating a new option for organizations to make better use of data in their documents. Using natural language processing, deep learning and other methods, AI can help recognize and categorize data in documents and then mark up that data to create a structured document."
"Docugami's founder notes that his company is focused on understanding not just 'big data' but also 'small data,'" Castro writes. "For government agencies, this opens up new possibilities too because more semantic data could help an agency not only better manage a wide variety of documents, such as invoices, contracts and proposals, but also eventually use the technology to answer questions using the data contained within them — a search engine on steroids."
---
The history of technology is filled with stories of problems that could not be solved for years or even decades, until suddenly the right combination of factors came together and changed the game.
The problem of unstructured data trapped in documents has been staring us all in the face for decades. Today, we have finally reached that inflection point for documents.
The future is Document Engineering for every organization, big or small.
And we are building the future of documents right now.
Learn how Docugami's breakthrough AI delivers value on Day One, unlocking critical business information from your documents.